How To Wear White Sneakers: Styling Tips & Outfit Ideas (Female)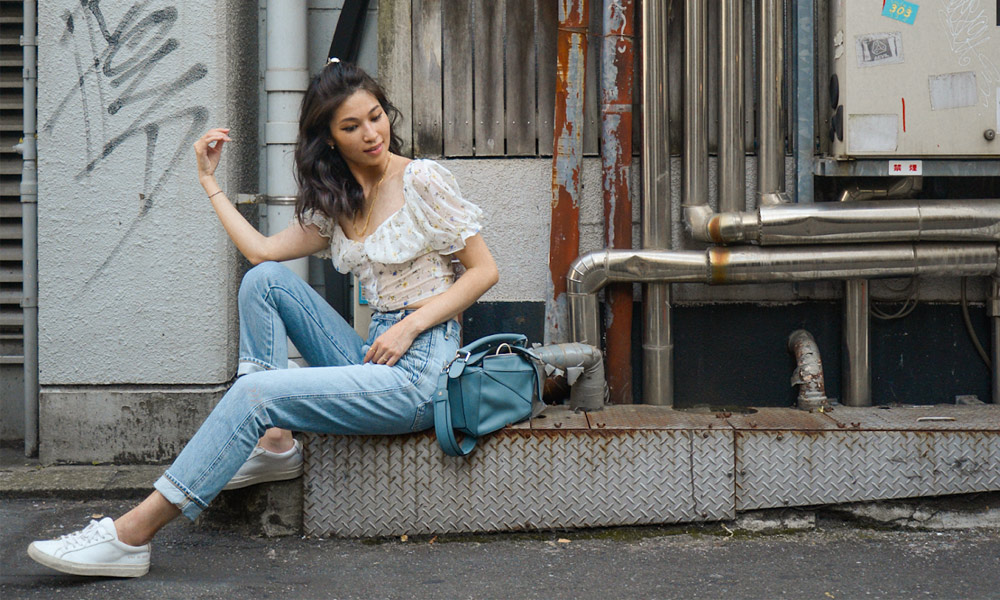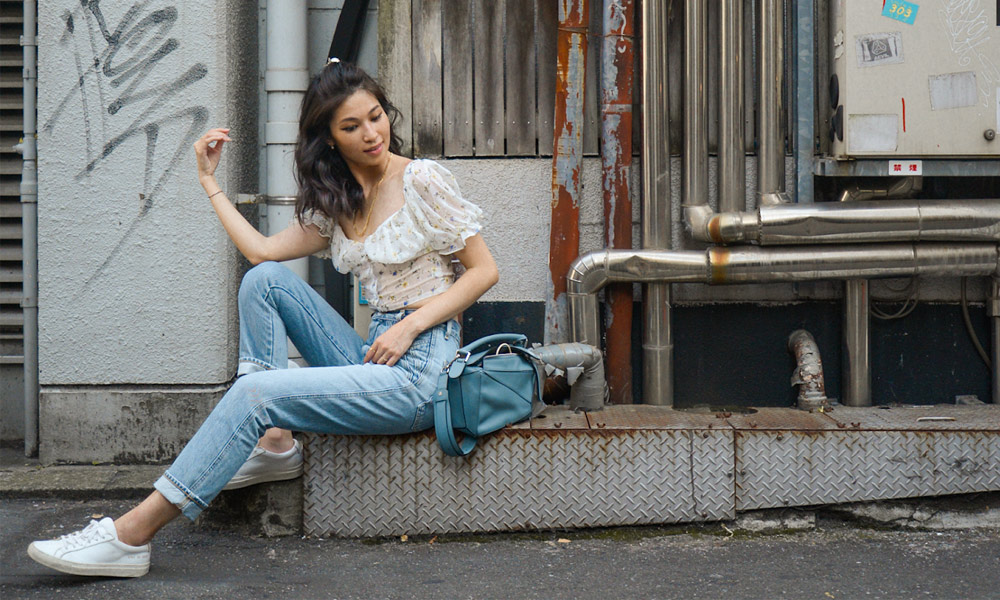 White sneakers have become increasingly popular this last year or two, and both women and men are wearing them with most of their fashion clothes. And they are an incredibly versatile piece of comfy footwear you can wear with lots of different garments.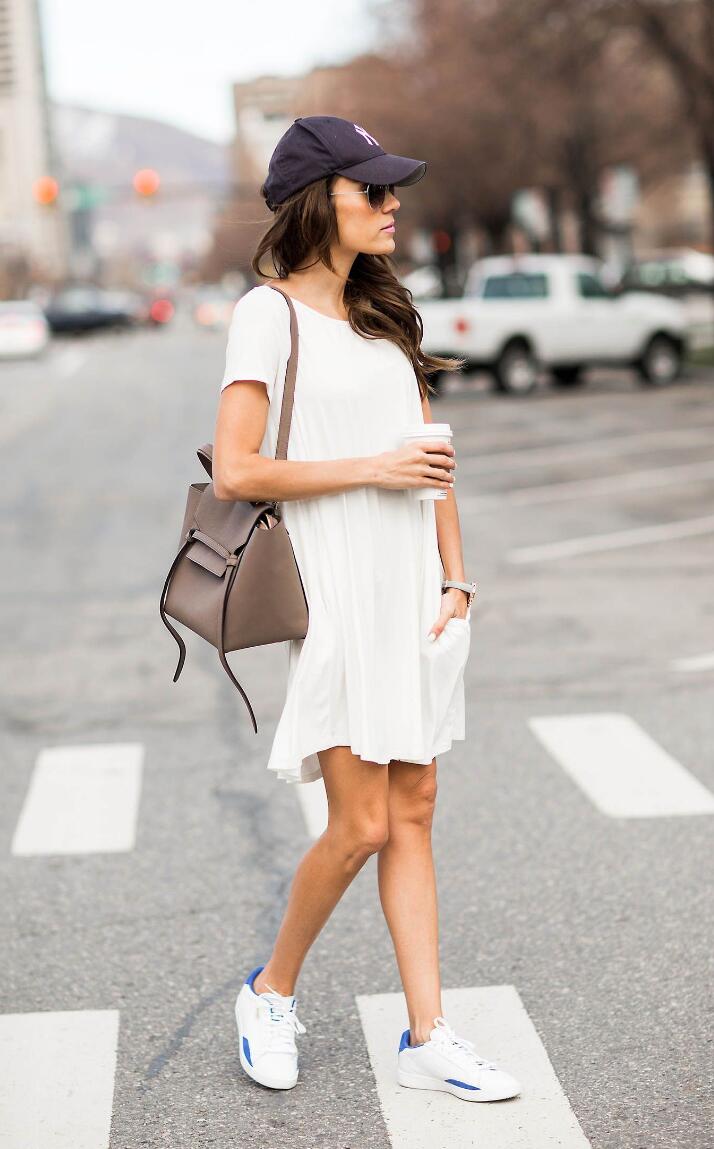 However, this year's wide change of styles and fashion clothes has left lots of women questioning how, and with what, they can still wear their beloved white sneakers.
So this is a full guide to how to wear white sneakers with the latest fashion clothes, including all the new stuff like wide jeans, flares, bell-bottoms and boot-cut jeans. In addition, should you wear your sneakers with the latest tennis skirts, dresses and plaid blazers? And do white sneakers look right with long cardigan-coats? Here's a comprehensive guide showing how to put together new winter, spring and summer outfits with the right style of white sneakers for different clothes:-
White sneakers and faux leather leggings
Leather and faux leather pants and leggings are almost impossible to tell apart these days. And both types of fashion pants upgrade your look. However, if you want to wear them for a casual occasion, don't wear high heels, put on some comfy white sneakers instead. White sneakers are the perfect blend of chic fashion with relaxed attitude. And as brown leather pants are the latest trend, you'll score more fashion points if you switch from black to brown.
Adidas Falcon Triple White sneakers are set to be a leader for the next 'big sneaker' trend. And this may be because they're a clever blend of a delicate shoe and a chunky trainer. They certainly are selling out fast on many sites, so now might be the best time to buy, before they become 'out of stock' by summer!
White sneakers & wide-leg jeans
Wide-leg jeans are a huge new trend for this season, so you need to know exactly which shoes or boots are going to give you the full fashion look. First of all, it can be dangerous to wear stilettos or any high heels with wide leg jeans, as when you walk down stairs or steps the heel often gets snagged on the hem and causes you to fall forward. So your best fashion and safety match will be one of the many types of white sneakers. If you are tall, then flat trainers are fine for you.
If you are short, you definitely need more height with wide-leg jeans to balance the extra width. So platform white sneakers will give you the best look. They match well with all shades of blue and look smart, but relaxed, which is the correct vibe for most wide jeans. And this all goes for flare jeans, bell-bottoms, straight-legs, balloon jeans and barrel jeans, too. So you can keep your favorite white sneakers in your shoe wardrobe, but probably buy a new pair of wedge-heeled or platform-sole white sneakers to get the best proportions with the new trouser styles.
Converse Chuck Taylor All Star Lugged High Top is a white sneaker that has a thick platform sole to give short women the extra height we need to pull off many of the wide-legged jean styles. They are a mix between a sneaker and an ankle boot, and a feminine take on the classic Chuck Taylors. They are loved for their extreme comfort, their height and the fact that they look good with everything!
Best white sneakers to wear with dresses
If you're a dedicated sneaker-wearer, and apart from using them for your daily walking exercise, you can't ever bear to swap them for 'hard' shoes; you need to know how to wear them with dresses. Day dresses will be appearing in the fashion stores soon, as they were a real hit last year and continue to be a stretchy, comfy trend to wear for summer. We love our skinny jeans, but this year we are being encouraged to add a whole new set of fashion ideas to our wardrobe. And sneakers look so cool with a summer dress that could look a bit formal if worn with heeled shoes.
Adidas Superstars are a versatile and madly comfy white sneaker that you can wear with or without socks. They score lots of points as sneakers to wear with dresses, as they suit almost every type of fashionable dress, even flowy, fancy frocks. They are medium chunky, so they always fit in and have a classic, trendy vibe.
And the Asics Gel-Kinsei OG's is another very popular white sneaker for comfort, and the retro Asics 2000 form-stripe and silhouette. They are recommended for wearing all day with oversize denim jackets, silky blouses and night-time dresses. And if you haven't got this year's summer dresses yet, try wearing a fitted, dark colored dress with a sweatshirt, or your denim jacket, tied around your waist, plus your white sneakers for a new vibe!
White sneakers & gray plaid blazers
Plaid and checked jackets are very much at the forefront of the latest trends this year. And black and white checked blazers are always going to look great with a white top, a black pencil skirt and a pair of white sneakers. The main colors for plaid are soft gray and soft light-brown shades, which have a subtle, chic look you can dress up with dark shoes, or keep relaxed but still smart with white leather sneakers.
For summer, there are lots of plaid and checked, pleated tennis skirts that are very short and flirty, so to keep the look from being too provocative, wear flat white sneakers and avoid high-heel shoes. Try Pure White Chuck high-tops from Converse, a popular indie streetwear sneaker made in association with Chinatown Market. They have a simple shape, as the canvas has been specially treated to react to ultra-violet light when you're outside, which causes your sneakers to change color to shades of pink and purple! Great for a fun look and great for starting conversations, too.
White sneakers & long cardigans
We've still got a way to go before we'll be enjoying the summer weather, so the trend for light-brown, camel, tan and khaki cardigans that are thick enough to double as coats is one to focus on. They are being called 'Coatigans' by J. Crew and if you choose a light color, you can wear this handy, comfy item all year round with a pair of white sneakers to contrast with your dark denims or pants.
The Nike Huarache all-white sneakers also have an extra thick sole that gives much-needed height to shorter women wearing wide leg jeans/pants this year. They are also a unisex style, so you can get outfit inspiration from images of men and women wearing them. And they are equally suitable to wear with a velvet dress, a tracksuit or bell-bottoms!
White sneakers & puffed sleeve crop tops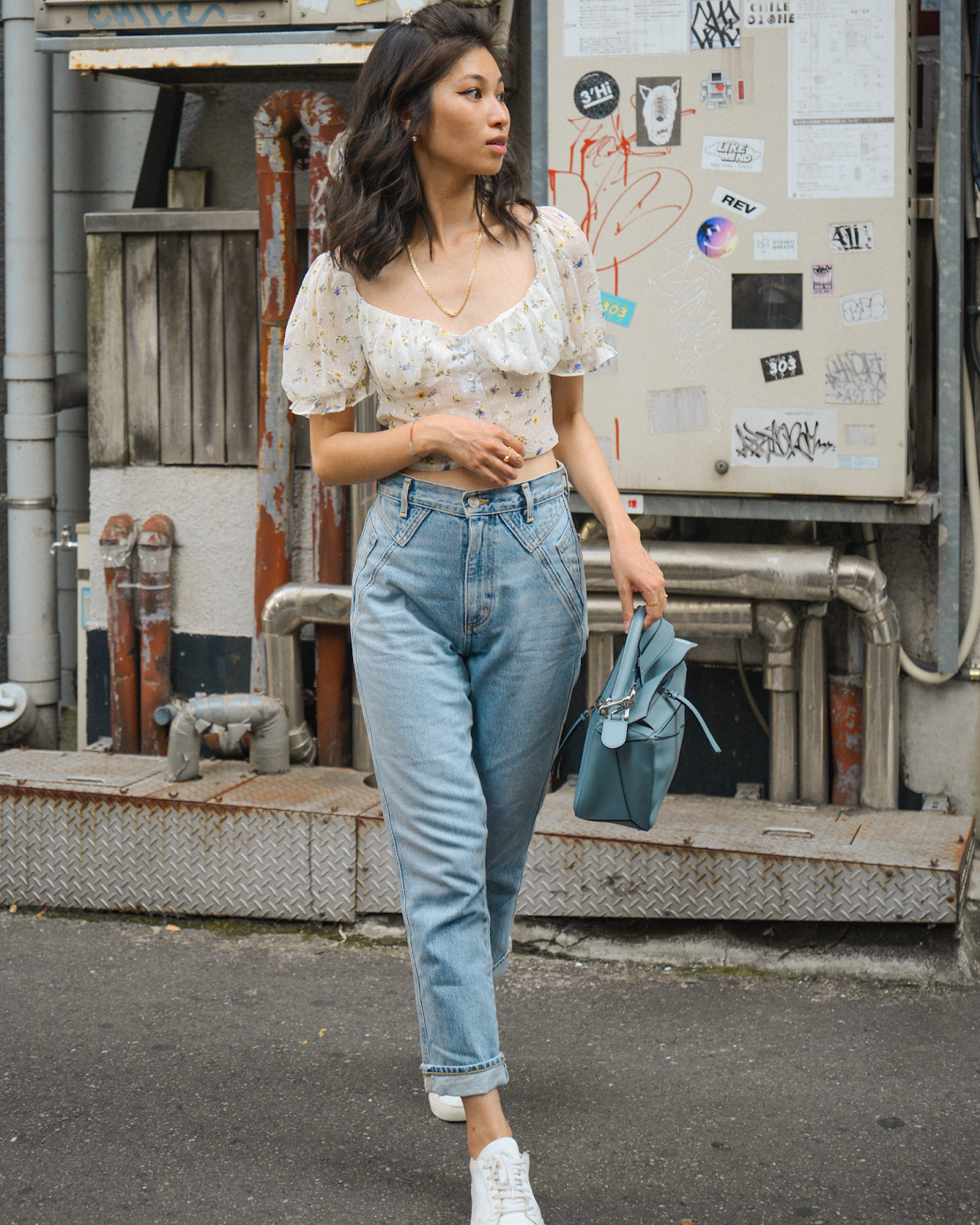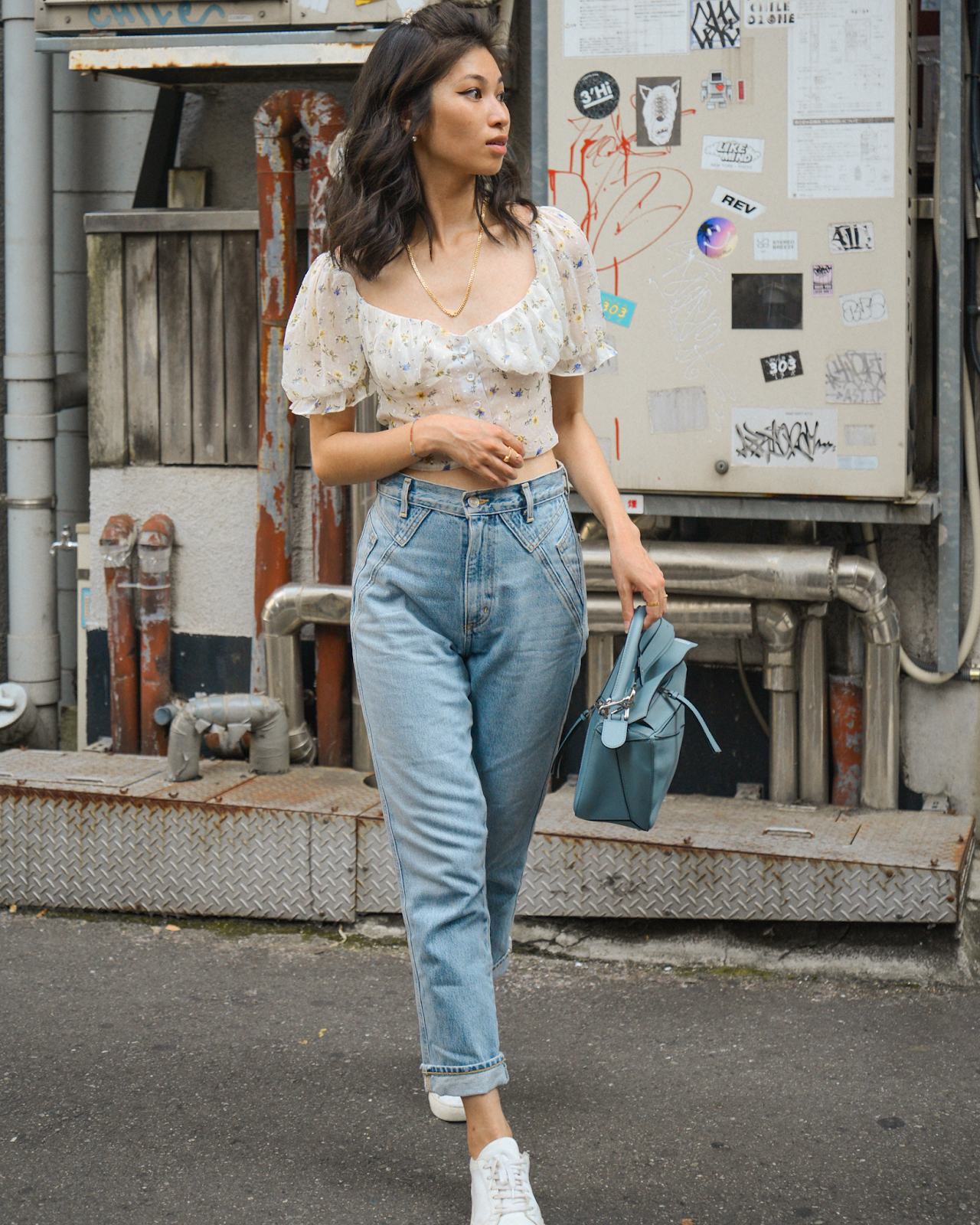 And when it's warm enough to just wear a top without a cardigan, make sure you're wearing puff-sleeves in a pretty pastel shade to match your boot-cut, light-wash jeans. There's no sandal or shoe that looks as good as white sneakers for a truly, casual summer vibe.
Try Nike's Zoom Gravity sneakers for an extremely light-weight shoe, which is a huge benefit if you need to travel and take your sneakers along. They are perfect for packing and have an athletic look with a midsole tapering down to a pointed heel. So they are great for summer wear when the last thing you want is heavy sneakers.
Vintage-look white sneakers
Another popular white sneaker that young women fee l they can wear with anything is the Reebok Women's Club C 85 Vintage Sneaker. They are 'light-weight and super-comfy', is the most often repeated comment from those women we know who wear them every day. And apart from how good they make your outfits look, we should also remember that we're supposed to be walking as much as possible these days.
So the more often you wear a pair of comfortable white sneakers with your chosen outfit, the more likely you are to do a little bit of extra walking! And that means you may find you're losing a little bit of extra weight by summer! However, if keeping your white sneakers in pristine condition is putting you off buying a pair, here's how to clean white leather and canvas sneakers quickly and with no fuss!
How to clean white leather sneakers
Materials: Paper towels – ivory soap as it's the cheapest – cotton rags – Mr. Clean Magic Erasers
Gently wipe the exterior of your sneakers to remove any large dirty marks. And then let them dry    for about 10 minutes.
Clean the sole with the dampened Magic Eraser. Rub the Eraser over the soles of your sneakers until all dirt and stains have disappeared.
And finally, wet the cotton rag and rub it on the ivory soap for lather. Then massage the uppers of the sneakers until they return to their original pure white color.
Wipe off soap with a dry rag and leave sneakers to air-dry for another 10 minutes.
How to clean white canvas sneakers
Materials: baking soda and white vinegar, cotton cloth or old toothbrush
Mix a tablespoon of baking soda and two tablespoons of white vinegar into a cup of tepid water.
Use the cloth or brush to transfer the liquid onto your sneakers and scrub away the dirt or stains.
When the stains have gone, leave the sneakers to dry for a little while. Baking soda dries quickly and you can brush of any excess and leave your shoes to air dry.
And if you don't have all of the cleaning materials to hand, you can always use soap and warm water. So enjoy wearing your comfortable and super-trendy, white sneakers with your new fashion outfits this year!