NIFT professor Sumantra Bakshi on career in Fashion Designing
Summary
Fashion Designing can be divided into four major branches — Product Design, Space Design, Look Design and Communication Design
Will, enthusiasm and power to observe things can help one excel in Fashion Designing
From getting acquainted with the various facets of Fashion Designing to the importance of observation power, 400 students picked up tips on 'How To Be a Fashion Designer' from Sumantra Bakshi, associate professor, National Institute of Fashion Technology (NIFT), Kolkata, at a webinar held by The Telegraph Edugraph.
The virtual session was the first in a series aimed at helping students gain in-depth knowledge of various fields and know about the career options in each field.
Understanding the Fashion Designing course
Fashion Designing is a vast industry. The subject can be divided into four major areas of interest — Product Design, Space Design, Look Design and Communication Design. "Understanding the different branches of Fashion Designing is important before you pursue the subject. There are vast opportunities in the field and it is essential that you clear your doubts now because Fashion Designing is not a single entity," Bakshi said.
Emerging trends
Explaining the different types of Product Designing, Bakshi focused on Apparel Design and said knitwear is the future of fashion. "Knitwear comprising of sportswear, atleisure, intimate apparel and winter wear is the choice of Generation Z. It is a strong field of fashion and young people are bound to choose it," he said. Fields such as Accessory Design, Fashion Photography, Space Design, Look Design and Graphic Design are also gaining popularity as career choices.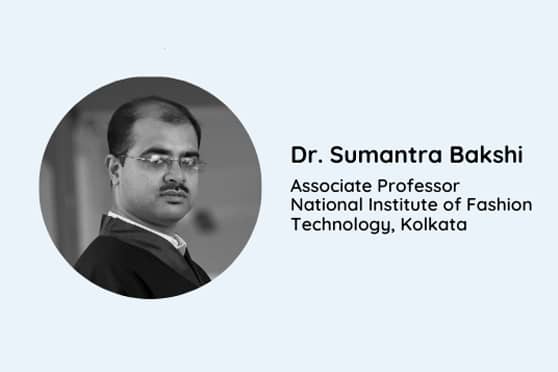 Sumantra Bakshi, associate professor, National Institute of Fashion Technology (NIFT), Kolkata, was the speaker at the first session of the 'How To Be… ' webinar series. SOURCE: ABP Digital
What you learn
As a teacher, Bakshi discussed how Fashion Designing as a subject not only helps students professionally but also in personal development. "The designing process involves critical thinking, creative thinking and design thinking. While you learn about Fashion Designing, a lot of your learnings will involve these aspects. You will be able to think creatively, critically analyse and develop a problem-solving attitude." He also discussed about material understanding that students pursuing fashion designing course will have to acquire. "Material understanding needs to be developed since it's the element you will be working with. With these materials you'll be giving shape to your dream and other people's dreams," said Bakshi.
Representation is important
The design process involves thinking while representation gives shape to the thought. Representation is key to Fashion Designing. Representation can be through drawings, sketches or 3D models. "Representation is the only way of communicating your thought to others," Bakshi said.
Practical skills are not prerequisites
Many aspirants have the notion that practical skills are required to join Fashion Designing courses. But Bakshi busted the myth, saying these skills can be picked up during the course. "Many of you wanted to know if embroidery, weaving, knitting and other practical skills are required in joining the course. I would say that it's good if you know them from before but even if you don't, it's not a problem. You will be trained in your institute."
What does it take to be a Fashion Designer
Will, enthusiasm and power to observe things can help one excel in Fashion Designing. "You don't have to know any software or be a great artist to become a fashion designer. Start observing the colours and patterns around you in nature even in man-made things. You can draw a lot of inspiration from them and develop the habit of thinking."
Last updated on 17 May 2022