Stacey Abrams Wearing Plus-Size Brand Henning
Just imagine working in an industry that doesn't accept you. That's how former fashion editor and curve model Lauren Chan felt for nearly a decade. "I showed up to work everywhere from the Glamour offices to the set of the Today Show and fashion weeks around the world, and my smaller peers wore designer clothing, while I was relegated to cheap fast-fashion," she says. Recognizing fashion's size inclusivity problem and doing something about it was long overdue. Chan, who identifies as plus-size herself, blazed her own trail by walking the runway for Chromat — in a swimsuit, no less — and accepting the horrific online vitriol that followed with grace and humility. (She's since modeled, sans clapback, for luxury e-tailer 11 Honoré.) For her latest endeavor, Chan made the move from strutting and editing to full-fledged designing. Her new brand, called Henning (a play on the word "hen" that's meant to signify women coming together), is a line of high-quality, tailored workwear specifically for curvy women, including voting rights advocate Stacey Abrams and congresswoman Cori Bush, who recently wore Henning on the cover of Teen Vogue. We caught up with Chan to talk about her company, what it was like dressing Abrams, and her mission to destigmatize plus-size women.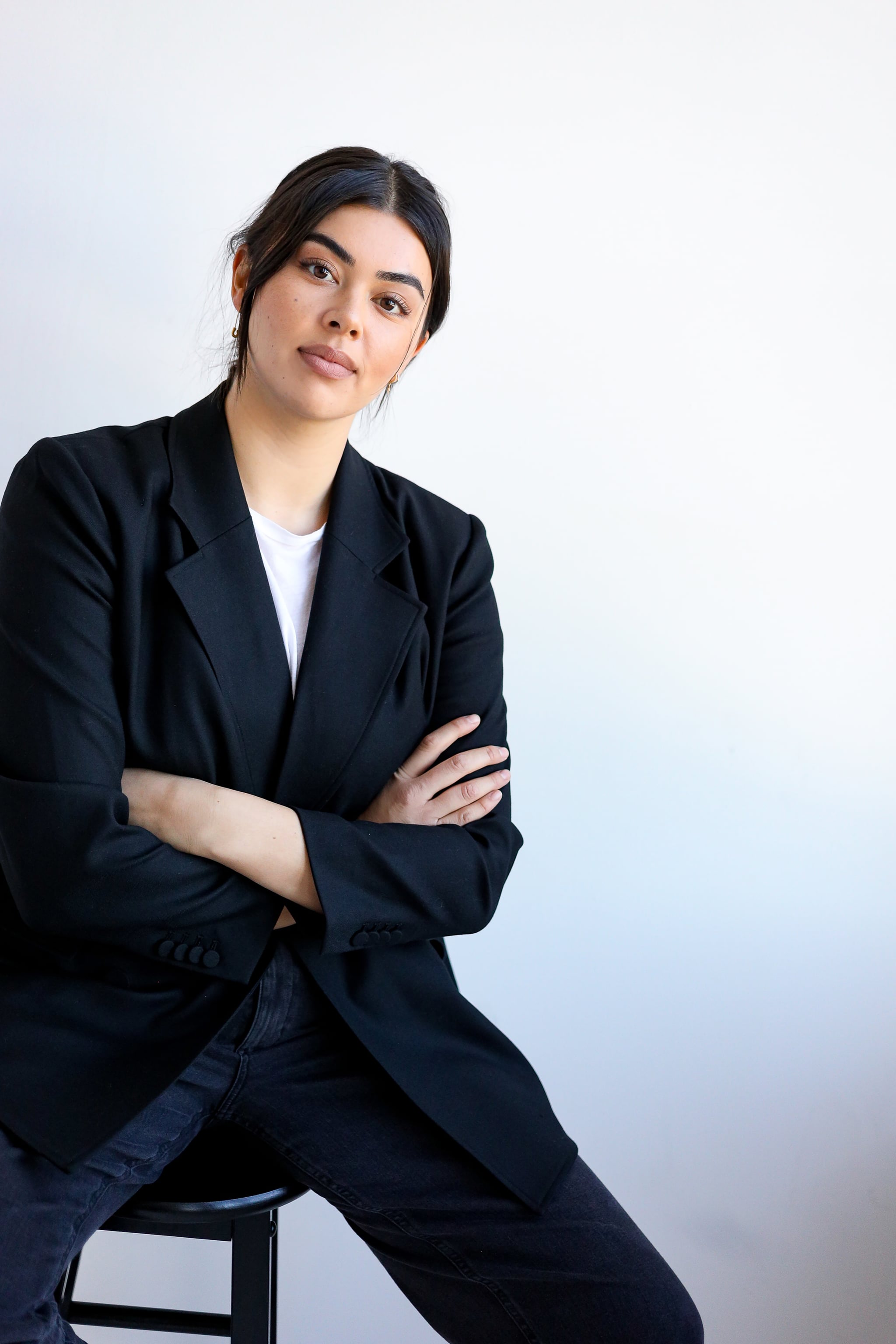 POPSUGAR: What inspired you to start your own line?
Lauren Chan: Despite having spent years as a savvy plus-size consumer and fashion editor invested in discovering emerging brands, I was never able to find a desirable luxury brand that made clothes in my size. The message I absorbed over time was that I was of lesser value than them — the exact message that fashion sends by leaving plus-size women out of the luxury conversation. And I got sick of it. Henning aims to change that narrative by telling women of all sizes that they are high-value people.
PS: Who is your ideal customer?
LC: Women above size 12 who have been craving timeless, ethical, designer-caliber clothing. They tend to be professionals — from gallerists to lawyers — in metropolises like New York, Los Angeles, and Washington DC. It may sound corny, but every customer is my dream customer. Interacting with the Henning community is the best part of my job! And I can run my company most confidently when my personal lines of communication are open to them. I often lean on our Facebook group when I need help with average body measurements, opinions on colorways, identifying key influencers, etc. We even launched Henning's social programming ahead of our official brand launch in order to carve out space where I could talk to the community without a sales angle. Today, the same thing goes, so our group is talking about things like how to keep our heads up during the pandemic and our favorite Black creators.
"Henning exists to reinforce the rare messaging that plus-size women can be anything and achieve anything."
PS: Is there a piece from the current collection that stands out in particular?
LC: Easy: the Hudson Leather Jacket ($1,595) — and it seems to be the current customer favorite too! The first thing people say when they try on this jacket is something like, "This is what I've been trying to find!" Regardless of the vernacular, the point is that those people have all had the same experience: they've wanted a leather jacket à la Saint Laurent or Acne Studios and have never been able to find one in their size. Same here. Instead, I've spent years wearing fake-leather knockoffs from fast-fashion brands that look cheap and crack after a cold spell. I wanted something made more consciously, using high-quality materials, that will last a lifetime — and most importantly, something that made me feel like I belonged to wear something luxurious.
PS: How has your time working in the publishing and modeling industries influenced your design approach?
LC: During my time as a plus-size model and editor, I have seen every possible fashion design on the planet. For a while, that steered me off track with my personal style because I was so enamored by all of the glorious, vastly different designs. Over time, I took note of what I felt most comfortable in: chic and unfussy suiting, neutral knits, soft button-downs, jeans, sneakers, boots, and menswear-inspired outerwear. You could take one look at Henning and see how much my personal style influences my design!
PS: What was your reaction to Stacey Abrams wearing Henning?
LC: First, I must say how proud we are to ever dress leader Abrams — let alone on a historic election day! — because she represents everything that the brand and I stand for. Henning exists to reinforce the rare messaging that plus-size women can be anything and achieve anything. Leader Abrams continually proves that we are not less intelligent, ambitious, or powerful than our straight-size peers; that we belong everywhere from Senate elections to luxury fashion discussions; and that when we internalize those sentiments, we can change the world in our individual ways. When I last had a meeting with Abrams, I teared up just thinking about that. I hope to be dressing all of the people similar to leader Abrams in the world of politics — and for that matter, anyone who helps Henning contribute to the destigmatization of plus-size women.
Scroll through below to shop our Henning picks.