Summer dresses, sustainability & celebrating small business with fashion designer Justine Tabak — That's Not My Age
With several decades experience designing for big name fashion brands, in her early 50s, Justine Tabak decided to launch her eponymous label. Having worked for some of the best-known British fashion companies, including Boden, LK Bennett, Jigsaw and M&S, she had become increasingly frustrated by the 'sameness' of the high street. 'It all began to look alike, and I found it hard to find clothes that combined my love of vintage and modern,' she says. 'I also felt disillusioned with the high volume, trend-led, 'buy for discounting' culture of classic fashion retail and wanted to approach a slower, more crafted way of working.' In 2016, Justine decided to take the plunge and establish her own small business.
Having started out at her kitchen table, making mostly for her circle of friends, Justine Tabak's vintage-inspired dresses have become a cult favourite. There is a focus on simple, tiered (but not too voluminous) silhouettes and floral fabrics. The easy to wear dresses (and separates) are often inspired by vintage finds, reimagined in modern day, natural fabrics, including Irish linens, Liberty Tana Lawn and Nottingham lace trims. To keep waste to a minimum, the lines are made in batches according to demand, and frequently sell-out. 'Making everything in Britain enables me to meet face-to-face with manufacturers, fabric producers, designers and crafters who contribute their skills and creativity,' she says. 'After years of working with mass producers in far-flung places, it's good to be able to keep it local.'
Dressmaking is in Justine's family. Her grandfather, an Austrian refugee, was a women's tailor in London's East End; the family moved to Manchester to flee the Blitz. Her mum made all her own clothes and dresses for Justine and her two sisters. With a keen interest in fashion from an early age,  'I was the child that was constantly making badges, costumes, customising my school uniform;' Justine studied for a degree in Fashion & Textiles at Leicester Polytechnic, followed by a Masters at London's Royal College of Art. On graduating she landed her first job at Fendi in Rome and spent four years designing for the Italian catwalks.
Now both 58, Justine and I first met during her Boden days and I've followed her career path ever since. It was high time we caught up again – and lovely to reconnect. Here we chat about style, sustainability and how she manages her brilliant small business.
What inspired you to take the leap from working for big fashion brands to starting your own label?
I'd always wanted to start my own label but never felt it was the right time, particularly when my children were young. I was a single mum for much of my 30s and 40s and didn't fancy the insecurity of running my own business. My children encouraged me to do my own thing when they were teenagers, so in my 50s I finally decided to take the plunge! I'm very grateful that they did, as I'm enjoying the new community of sustainable fashion friends and working locally with a community of makers. I'd spent years travelling the world during my career, something that didn't always suit family life and didn't feel right in a more environmentally-conscious era, so I wanted my own brand to have 'Made in the UK' at its heart.
How did your business begin, and what was your first Justine Tabak design?
Initially, I created a mood-board of the types of clothes I personally loved; easy to wear, vintage-made-modern, pretty and practical, dresses  – always with pockets! The first collection included jackets, trousers, tops and skirts but it was a simple, tiered, red corduroy dress that captured the imagination of press and customers, alike. Six years ago, the Petticoat Lane d
ress was ahead of the curve, a shape that was romantic with an edge –  and to this day, the dress is a favourite in the collection.
Tell us what inspires you and influences your designs, and what's important to you when creating your collections?
I've always been a scavenger for vintage clothing and have a loft full of second-hand clothes for reference. I might look at a shape, a detail or a print and conjure up a new style from these influences. I'm not always conscious of some of my influences. For example, I love Liberty prints but it hadn't occurred to me why, until I opened up the wardrobe of my late father a couple of years ago and counted over 20 Liberty print shirts that he had collected over time! My mum and dad were both artists and inspired in me a love of applied arts; my mum would bring me from Manchester to London to visit the V&A  and new boutiques in the 70s, she took me to Biba and Laura Ashley.
When designing, I don't want to just design a pretty frock, ease and practicality are just as important. There have been many iterations of a romantic dress but I like to think mine are hardworking, made in robust natural fabrics in styles that will last for years. I'm not a slave to trends and hope to make pieces that really stand the test of time.
Why did it feel important to you to join the slow fashion movement?
The slow fashion movement is so important after decades of conspicuous consumption. I feel passionately that we all need to buy less and love our clothes more, for too long we have had a throwaway culture that devalues the craft of making clothes. It's going to take a long time to retrain old habits but for the sake of the planet, the fashion cycle has to change. Slow fashion means you're not slavish to fast trends, it considers the work that goes into each piece and in doing so means that we waste less and educate others to make more conscious choices. On a lighter note, I love the new crop of slow fashion designers that create their own personal stories and looks within their collections, with individuality and creativity at the core.
Describe to me a typical day (if there is such a thing!)…
I have a studio in London Fields, Hackney. The walk to work takes 45 minutes which is always great, creative thinking time. Running a small business means multitasking 24/7 and any one day can include design decisions, production specs, visiting fabric and garment makers, photography, social media, accounting and customer service. I have grown from a one-woman band to a small but beautiful team of four.  Alongside team JT, we work with loyal collaborators for pattern making, photography and manufacturing. I never see the job as designer as more important as the technical input that makes the magic happen.
What are your most memorable collections and designs? 
Difficult! I think overall it's seeing a happy customer that makes a design memorable. That's the beauty of social media where you see customers really enjoying their purchases and living in their dresses. One of my highlights is a dress made of fluorescent check seersucker which coincidentally came out at the time of the first lockdown. It captured the 'rainbow spirit' and a percentage of its sales went to charity, so it was a beauty through and through. Other dresses that have a real feel-good factor are the linen pieces, linen is such a kind, sustainable fabric and we create our own linen checks at a beautiful family run mill in Ireland.
What are you working on right now? 
We work very close to the season so currently selecting corduroy colours for next autumn and designing a new autumn linen/ tartan check. At the same time, we are making top ups for our batch production next month. We're so lucky to make locally as we can slowly add to production, all year round.
Finally, how would you describe your style? Does it feature an abundance of colour and print like your collections? And do you have advice for staying stylish?
Of course, I spend a lot of time wearing my dresses. I never intended to make the collection so colourful but instinctively print and patterns are what I'm drawn to. I literally have palpitations if I go to a vintage textile fair! It may come as a surprise but I don't have very many clothes, I tend to wear things for years. I've found my style and I'm very comfortable in my own skin. I tend to dress down with trainers or boots, it's an approach that I think generally makes for a more modern look. When not having a dress day, I stick to a well-cut pair of jeans (a Levi's straight leg style) and simple blue shirt or white Petit Bateau t.shirt…yes, I can do minimalism too! Fewer precious pieces are always better than too many choices.
At the end of the day, staying stylish is about wearing the clothes and the clothes not wearing you…feeling comfortable enough to reflect your own personality in your clothes is enduringly stylish.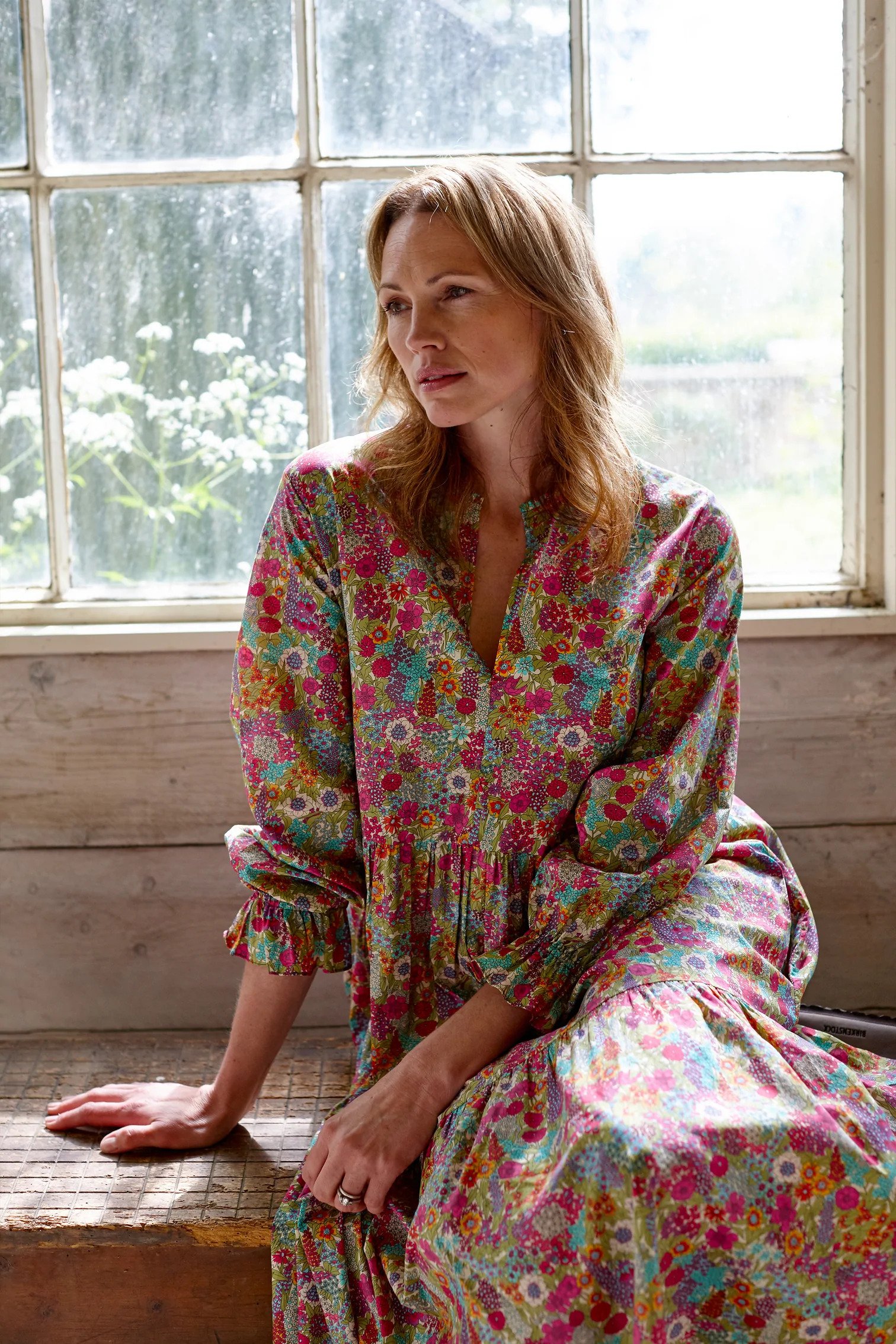 Shop Justine T
abak over HERE  – That's Not My Age readers have been offered 15% off for the rest of July (using the code TNMA15 at checkout). Offer lasts until the end of July and can be used on all products including any sale.
And a few more summer dresses designed with sustainability in mind: